Of the many traditional cheeses made on Monte Baldo, a few exquisite varieties include: Monte Veronese, Monte, Casàt in oil, and young and fragrant Casatèle. These cheeses were once produced in dedicated mountain huts known as baiti.
Monte Veronese This delicacy is protected by the European Union and was one of the very first Italian cheeses made with cow's milk to obtain the d.o.p. ("di origine protetta", or "of protected origin") quality standard. Though Monte Veronese cheese is primarily produced in the Lessinia hills, Monte Baldo is also included in the official production area. According to regulations, there are two types of Monte Veronese d.o.p. that can be produced using whole or semi-skimmed milk. The first is prepared in three days, while the second variety is aged between ninety days and six months.
Monte Monte is the typical cheese of Monte Baldo, produced now only by a small handful of farmers located primarily on the Western slopes. It's produced in casére, may be fresh or aged, and represents a cultural tradition that still survives today on Monte Baldo.
Fresh Monte is produced using two thirds whole cow's milk and one third semi-skimmed. It can be produced all year round, with the exception of Winter. The milk is from grass-fed cows. The cheese matures over a couple of months in cool and humid cellars, where it is flipped over regularly, but then is not aged. When ready to be eaten, it is off-white or light straw-yellow in colour, compact, and displays extremely small eyes.
The flavour is sweet and sometimes slightly sour. Aged Monte, on the other hand, is made using mostly skimmed milk and approximately one third is freshly milked. In this case, the milk comes from hay-fed cows, and is produced while the animals are in the barns during the winter and early spring. It matures over a couple of months in a cool and humid cellar, where it is cleaned with a rag and flipped over daily.
Casàt of Lake Garda This cheese is made using raw milk, either whole or skimmed. It is not generally aged, and is primarily produced for self-consumption. It's a fresh cheese that comes in small wheels and is cut up into small cubes before being steeped in olive oil. This tradition has now all but disappeared. It is a true local culinary treat that ties both the East and West shores of the lake together with the flavours of Monte Baldo.
Casatèle Quite small in size, these extremely fresh cheeses mature for only ten to fifteen days. On Monte Baldo, these are made using milk from alpine pastures. To truly appreciate the flavour of casatelle, they should be thinly sliced, with a drizzle of extra virgin olive oil from the lakeshores, a pinch of salt and a dash of freshly ground black pepper. It makes for a simple yet flavourful summer dish or a tasty appetizer.
Fried cheese It was the richest food for the farmers during those summer months spent in alpine pastures, as the cheese was fried in butter. It was a robust and tasty change of pace from the monotonous daily meal of bread and fresh cheese. To prepare fried cheese you must melt the butter (100g for four people) in a frying pan, slice the cheese (150g per person for a good dinner) and fry it in the butter. It is best served with hot polenta.
Source: ANGELO PERETTI ON

MALGHE, HOLIDAYS, FOOD AND GASTRONOMY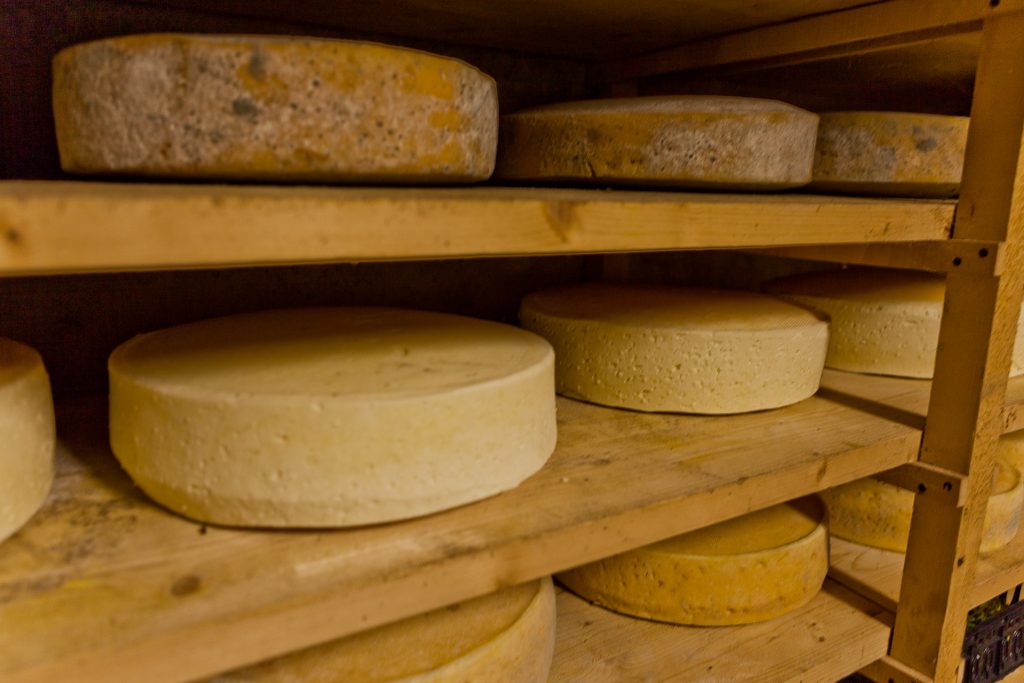 Interesting